Scottish Champions Celtic drew 1-1 at Home to Greek Super league Champions AEK Athens Tuesday night in the UCL Third-Round Qualifiers at Paradise.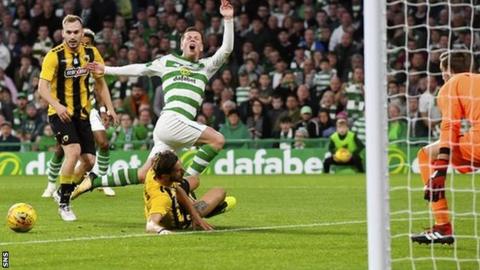 The Scottish Champions struggled to take advantage of a 10-man AEK – reduced to 10-men in the 2nd Tiempo.
The game itself had seen the Scottish Champions take full advantage of a full house in-front of 54,000 Celtic Supporters. Had they been offered the result pre-game, the hosts probably would have taken it as the club has been forced to play an extra round of UCL Qualifying this year mandated by UEFA rules.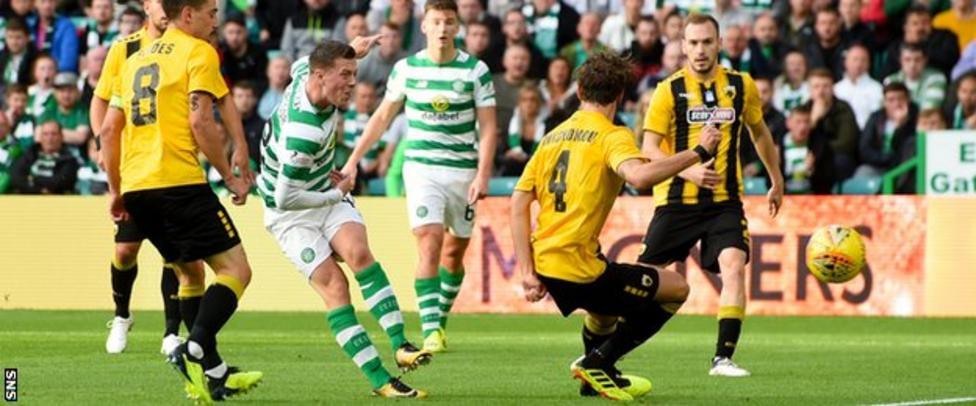 Celtics McGregor opens the scoring for the hosts.
Callum Mcgregor's neat footwork on 17′ minutes was cancelled out just before half time when AEK Midfeilder Klonaridis smashed in a volley in what was gaping Celtic defence. The blame was largely directed Celtic's Danish defender Kristopher Ajer whom, having come back from this years Russia's world cup with a successful run under, Christian Eriksen's Denmark, was along two or three Celtic players who got sucked into the overlapping cross, Ajer included, that left Viktor Klonaridis to smash home and silence the home crowd.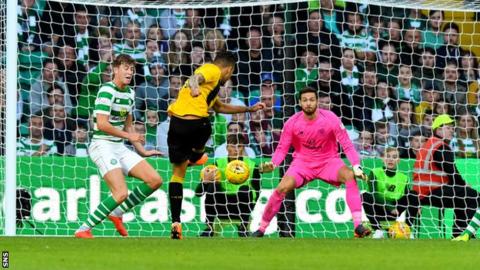 Klonaridis Volleys in the ball to make it 1-1 for the Greek Champions.
The hosts dominated the match. Largely helped by the fact that the SPFL season is underway and that the club had recalled its Senior Squad in late July. It was however AEK's first competitive match of the season. In addition, AEK Athens midfielder Galanapoulos was shown his second yellow card of the night and the away team were forced to play the last 30 minutes down to 10-men having already made it 1-1 just on 44′ minutes.
Speculation had been rife mid-week that Celtic would Hibs target John McGinn. But before the end of the English Transfer Window ended, but a late bid by Aston Villa had matched Celtic's improved 2.75M offer and turned the Scotland Internationals head hijacking the transfer to Birmingham. By all reports, he wasn't swayed by the facilities at either Villa Park or indeed at Lennoxtown, but didn't see eye to eye with coach Brendan Rodgers as a squad player this year.
Now with inexperienced World Cup Danish International Kristopher Ajer suspended for the second leg, and the squad having to succumb to Edinburgh rivals' Hearts on the weekend. A Mircale In Athens will be needed for Celtic.
With 3 weeks left in the Scottish Transfer Window and still yet no sign of resolving first choice Centre-Back, Dedryck Boyata's move 9.5m to Sevilla, Brendan Rodgers might have to make to with a make shift defence that is already leaking goals –  but can also score.
Odsonne Edouard has been delivered from PSG for 10m and already looks the part. Moussa Dembele is another Frenchman with an aptitude for goals but is still carrying that hamstring injury, and Griffiths though through a lack of match fitness (not from his part) knows the path to the Group Stages.
The Celts will need a miracle in Athens to continue marching on, and it might help the team that UEFA has mandated an extra qualifying round this year for the Scottish Champions, in order for the manager to finds his team and indeed his feat. At 1-1 and the Greek side carrying the advantage on away goals Celtic must score atleast hoping to score once, which they can do, but it will be a miracle if they can Jam out what was an impressive display by the Greek Champions in the first leg at Paradis